HAIR BUNDLES WITH CLOSURE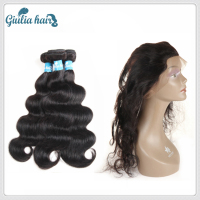 Brazilian Body Wave Hair 3 Bundles With 360 Lace Frontal
$87.00
Ordered hair on a Monday night, received it on a Thursday. Purchased 14in frontal, 14' 16' and 18' bundles. Only used the 18' and half of the 16' with frontal. I've only had the hair in for a couple of days so I'll come back with more pictures. So far I would recommend this hair.
I really like this hair. I bought it trying to experiment and it turned out great. Pur this hair in forgetting to use weft glue didnt even need it. The hair smells good, doesnt shed, takes heat very well and the snapback is even better this hair is great.. My only complaint was that the lacefront was too big so I had to adjust while sewing it in but no big deal. Will be buying again!
The arrived on time. It was nicely packaged in a small white box . The hair is soft, true to length, and doesn't tangle. There was a few red strands in the hair but nothing major. I was able to bleach the knots. The 360 was a bit big but I customized it. Overall I'm satisfied with the hair and will order it again.
Absolutely love this hair. I received it about 3 business days after placing my order. I ordered 3 bundles a 360 frontal (14,16,18 w/ 12 in closure), but only used about half of each bundle to make my wig. I also sewed in an elastic band for extra security. I wore my wig for a wedding yesterday and spent several hours running around and dancing. The hair DID NOT frizz or get tangled.
Love this hair! I rarely get installs due to how expensive hair can be.But this hair is perfect! No one believes that I paid the amount I did.It's soft but not synthetically soft. There was no smell. Minimal shedding. I dyed it black and it took it very well.Minimal tangling as well in the nape area.You won't regret trying this hair out!
I love the texture of the hair didn't install yet but when install I will upload a picture overall I think this hair will do good and for the price I paid.
LOVE, LOVE LOVE.... FAST DELIVERY!!! WILL ORDER AGAIN!!
Wow just receive my hair today,the hair is so nice and very soft.i we surely order again
I am in love with this hair. It's soft and does not shed. The hair is so pretty and it does not have a bad scent to it. Thank you guys. I will be ordering again from you guys. Oh yeah shipment was fast and the seller kept in contact with me about my hair.

Your cart is currently empty.