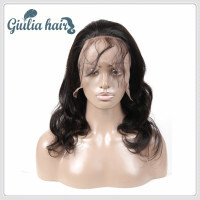 Brazilian Lace Frontal Wigs Body Wave Virgin Hair
$96.98
I received my order very quickly, it took 3 days to get here. the hair is soft and full.I am sooooooo happy about this wig. Very soft and full, very very minimal shedding.This might be the best wig I've ever purchased. Very pleasantly surprised. The hairline was already plucked and didn't require that much work at all. And the seller girl Cora was so helpful and patient.I love this store very much,will purchase more hair from them.
I love this hair it's soo full and so true to length doesn't shed either!!! The person I ordered from also help track my order thanks so much!
I love everything about my hair , it's super soft and had no shedding at all. I have it installed twice already and when I washed it the pattern stayed and the hair was super soft. Will be purchasing my hair from only this Giulia Hair .She has my support forever. And not to mention she responds to all questions
I ordered my hair on a Sunday it got to me on Thursday shipping was super fast. Very good communication with the seller. The hair looks beautiful and I'm so excited to get it installed Saturday :) ! Will be ordering again soon and will update in a few weeks
I am so absolutely amazed and pleased with this product! I am a frequent giulia hiar shopper but have always steered clear of purchasing hair due to terrifying reviews from customers not receiving what they had hoped for. However I did take a chance on am youth hair and I'm in love. I just finished washing the hair and it feels and looks wonderful and the description was true to form. It did have an odor but that was the least of my worries.. Not to mention the cost was the best I have seen for this texture. Needless to say I am very much satisfied with my purchase.
I love my hair I'm new to the wigs and this I can do all the time and my boyfriend also love it so u know that's a plus!!! And she was very great on reaching out and keeping up to date on everything knowing I'm one busy woman I will most definitely be ordering again
his is the second time Chantiche has made me happy. I love this hair. It looks natural,I straightened it and the curls returned as before. There is minimal shedding. It is not too thick or thin. People think it is my real hair. I will continue to order from them...I have been ordering lace wigs for a long time and this company is true on their descriptions.....Also I wear it as shake and go wig when I don't put on products which make it look even prettier
This hair is amazing!! I love it! this is only my second day having it in but it is so soft and I had No tangling nor shedding so far.I ordered it on a Saturday and received it on he following Wednesday which was super fast. It's BOMB. you do not need to do pluck or bleach the knots anymore.It is so easy to maintain.It's so soft!!I wear it everyday and have already sent this link to 5 people begging me for the hair details.he communication was great and I now know that this will be my go to store for hair moving forward!! Thanks a million!!!

Your cart is currently empty.