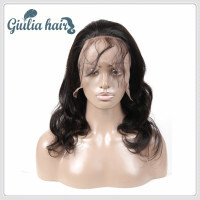 Brazilian 360 Lace Frontal Wigs Body Wave Virgin Hair Cheap Real Hair Wigs For Sales
$99.98
I'm in love with this wig! Very soft and minimal shedding. The hairline is already pre-plucked so all I need to do is bleach the knots. The color is natural and I don't like natural colors, so I will dye it jet black. The cap could've been a lil bigger just because I have loads of hair on my own head. I will be sure to specify that on my next purchase, as I am looking forward to my next order from this vendor.. p.s. shipping was very fast, I received my order in 3 days and seller's communication was on point as well.. thanks Cora!
it had a lot of blonde/red strands of hair in it, but later went away after dying it. The hair didn't maintain the body wave curl as I was hoping it would (more straight texture). Closure was good, for my first closure. Week Update Review: Made into a wig. Still SOFT, Minimal Shedding, Closure is holding up really nice, holds a curl. I love it so far.
This hair was a great buy. no shedding after three months. I love it.best seller and the services,and they help me a lot,to answer all question quick that I'm confusing,thank you,you guys are so professional.Lovely girl.
I was nervous about buying a frontal on Giulia Hair without touching the hair first and seeing it, but I must say great buy!!!! The hair is super soft, the luster is perfect. There was no odor to the hair either which is an issue that you can encounter when purchasing hair. I had some hair left over after getting the wig made. The lace is made well and I love that I am able to part it anywhere. Lastly, the customer service is top notch!!! Thank you :) I have had so many compliments on my hair.
This wig was AMAZING! Extensions break my hair when my hair is braided because I have soft hair. My hairstylist recommended a wig if I wanted a low maintenance hair style while on vacation.It is gorgeous! Hair is awesome quality and very full
Super fast delivery, I was not even expecting it till like next week, it came super early, good communication from the seller, the hair feel so soft and natural. I will definitely order more soonest
Hair is soft and beautiful!! This seller is a keeper for me!

Your cart is currently empty.