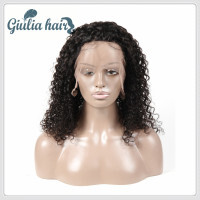 Brazilian Curly Virgin Hair Full Lace Wigs Kinky Curly Hair Wigs For Sales
$134.98
was scared that my item wouldn't be here on time .. but thanks to Jesse and her positivity I got my wig the day she told me it will arrive ! And it's beautiful I'm really happy !! Thank you very much
Ordered 20inch wig and I was very pleased with the way it transitioned from the washing process to the air drying. It blended very well with my hair texture which I loved. I made a wig with a leave out but you can't tell .
The delivery was prompt (less than 3 days), the communication was lovely and the hair turned out better than expected. Make sure you let them know exactly what you want and they are always ready to help. Thanks .
Love this wig! Very versatile with Ear to ear lace and 4in parting in the middle. Soft swiss lace and the hair is also very soft and manageable!review imagereview imagereview image
This hair is OUTSTANDING! The hair itself is superb. I love it!....very natural and soft.Haven't had the hair for a long time yet but the quality is very good (not just saying it to get people to purchase) would recommend!
The wig is exactly like the picture. I got 16 inches and I was surprised that its a bit longer than I expected for kinky curly hair. Although, it is longer in the back than in the front, a little weirdly cut with that.The hair is beautiful and soft and easy to take care of. The cap is a reasonable size, so it fit my head without adjustments. The knots are bleached and blend relatively well but if you like an exact match then you can add foundation. My sculp matches well so that wasn't too much of a concern.Overall, very nice wig. Free part and comfortable. Not heavy and very playful. I would buy again.Thank you for the speedy delivery and excellent customer service :)

Your cart is currently empty.