HAIR BUNDLES WITH CLOSURE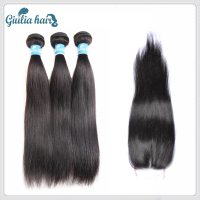 Brazilian Straight Virgin Hair 3 Bundles With 4*4 Lace Closures
$56.00
So I've had this hair going on 3 months now and within those 3 months I've had it installed twice and y'all IM IN LOVE!!!!!! The shedding is minimal and it'll hold a curl or a least stay wavy for days at a time. It's incredibly soft and bouncy. Bleaching the closure isn't really necessary but if you would like go ahead it will not damage the hair. Will definitely be ordering again!
Blended soooo well with my hair. Even though i just installed it today m loving how lightweight yet full it is. Really thick has a little smell.Good for when i wanna do a touch up or change my hair style. And m not even going to begin to talk about how thick those wefts are! I absolutely love it. Will be repurchasing.
My daughter loves this hair and she receives soo many compliments. She has 18. 20' 22 and 16 closure. We will order again. The communication from the seller was awesome as well. Thank you all!!!!
This hair is amazing , i used this hair to do a sewin on a client and she kept in for two months, during that time she came to me to style it for her three different times and I must say no shading and holds curls very very well .. my Client is going to use this hair again and I am soo buying this hair again and again .. thanks giulia hair for having the best quality hair ...
This is truly the best hair bargain I have ever had. I purchased a 22inch full lace unit and it has great density and minimal shedding. I was little skeptical about it being virgin hair but this is 100% virgin hair with a great lusture. I am definitely purchasing again and have told all of my friends to buy!review imagereview image
I just received my hair today. Ordered Thursday and received Monday. Fast shipping. Seller has great communication. Love love love the hair. Full thick wefts. True to length. I do have to Co Wash because of a slight smell but it's not too bad. Will be making a unit and will be back after I make it. So far so good
This hair is beautiful. It's soft and shiny. Each bundle is individually bagged and is very nice. I have not had it applied yet but by viewing other purchasers photos, I have no doubt that it will be absolutely lovely.

Your cart is currently empty.