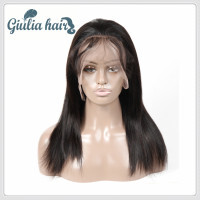 Brazilian Virgin Hair Full Lace Wigs Straight Wigs
$134.68
I love this hair, it looks so real, and the company kept in contact with me through out the whole process, making sure that I was buying the right hair, and that I received my order as soon as possible. I explained to the seller that I needed the hair by a certain date, and they made sure to ship it really fast. The hair out of the box was beautiful and soft, just as the picture online. Same day I bleached the knots, but I didn't have to leave it on for to long, I washed it and air dried it after. There is minimal shedding, and the hair has a lot of volume. I will post the after air drying pics on my manikin head, and a couple other from when I installed and styled it. I will definitely be ordering from you again
I love this hair, it looks so real, and the company kept in contact with me through out the whole process, making sure that I was buying the right hair, and that I received my order as soon as possible. I explained to the seller that I needed the hair by a certain date, and they made sure to ship it really fast. The hair out of the box was beautiful and soft, just as the picture online. Same day I bleached the knots, but I didn't have to leave it on for to long, I washed it and air dried it after. There is minimal shedding, and the hair has a lot of volume. I will post the after air drying pics on my manikin head, and a couple other from when I installed and styled it. I will definitely be ordering from you again.
The hair feels and look great. Very fast shipment and also the seller keep in contact with you to know if you received the product. I highly recommend it
Just receive my hair and so far i am very happy with it. Vendor was very cooperative and responded back to my messages as quickly as possible. I rated this 4 stars because i have not installed yet
Yaaaas this hair is very soft and I had very little shedding when washing it. The only thing I didn't like was the baby hair was very spaced out and it didn't look good so I had to cut into that part of the lace to make it look less ratchet. Also, it is on the thin side so I'm hoping it will last a while but so far so good!
I loveeeee this wig,honestly it's so beautiful..the pictures that I have of this wig so far are just video screenshots
The hair was perfect.It doesn't tangle or shed. all 3 bundles are enough to do a full head and I loved the packaging....I got lashes

Your cart is currently empty.