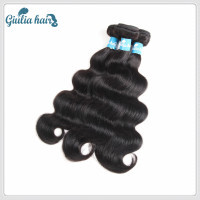 Giulia Hair Indian Human Hair Body Wave 3 Bundles Natural Black Virgin Hair
$40.00
I've just received my hair. The hair doesn't have any shedding when I run my fingers down the hair. It is so beautiful and the hair doesn't has a bad smell. The seller stayed in contact with me and was very nice. I will definitely give more feedback and take pictures once I wear the hair for prom in April.
I'm natural and I loved the way this hair blended in with my hair. I wore it for about a month. Washed and dryed it and the pattern was still in tact. The bundles were also really thick. I definitely approve.
I knew when I saw hundreds of people gave this company 5 stars it had to be exceptional! I bought 3 bundles....when they say 300 grams they rent kidding...I had hair for 2 wigs. I have never seen wefts like this...I Dont think its double stitched but triple stitched. There is no possible way for shedding except for where the weft has been cut. The wefts have a terrific and natural hair blend in that they have long and medium hair. I washed the hair and ran my fingers through it without one snag and thought...this is as soft as butter!!! Incredible deal! And customer service is A1!!
the quality of this hair is very good and soft. I haven't noticed hardly any shedding and it curls very well. I would and will purchase again.
The hair came within 3 days of ordering, it is nicely packaged. Bundles are very soft, as well as nice frontal included. We have not done the sew in yet, but I feel like it will be very nice just from the hair. at is a nice touch,Th especially since we ordered this hair for prom!!!
I ordered the 14, 16, and 18 bundles with a 12 inch closure and I absolutely love this hair! Customer service was so nice even from when they first shipped my order! I did have some shedding but that's only because my stylist used a fine tooth comb. The hair so so soft and everyone loves me hair, they think it's my natural hair! Lol. I definitely will be ordering from this seller again
This is my second time ordering from this website. The hair holds up very nice, last long as well. It comes in a decent amount of time and has nice packaging. The service is fair and they have a competent staff which is always a plus. I hope to order from here again.
The hair is absolutely lovely. My stylist even loved it as she was installing it. I will be ordering this hair again for myself and for my mom. Whenever I had questions they responded very quickly. The hair sheds just a bit and gets very tangly at which point I just wash it. I was very surprised at how well the natural wave patten holds especially when you braid it. Takes well to heat. A few oddly colored strands which you can just pull. Honestly over all impressed with the hair and the service. Some of the softest hair I have ever had.
I love your bundles you are my new vendor i will be ordering again for me graduation. When i first got the hair it was so soft
waited about a week to do a review, I never order hair from this web and I must say this was a very good purchase. The hair is very soft and doesn't really shed or get tangled. You MUST condition / wash the hair... initially the hair looked very shiny to me but after washing the chemicals off from processing it was great! It looks natural, still soft and doesn't tangle after washing, curling and jus getting up and going, it's perfect! the only thing I noticed is that after three days of my washing the hair, it seemed to get a little shiny again... I don't like it too shiny so I have to either wash it or use a spray bottle with leave in conditioner to keep the non shiny look
I absolutely love this hair, I ordered this hair and it came quick. It's very soft there is no smell and so far 0 shedding I had it installed the very same day it came went away on a mine vaca got wet in the pool and hair came back to life like when I just got it best hair ever. Will be ordering again

Your cart is currently empty.