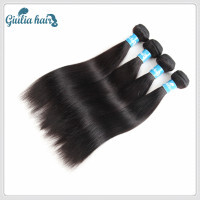 Giulia Hair Malaysian Virgin Hair Weaves Straight Human Hair 4 Bundles Good Virgin Hair
$60.00
Omg I have all 24in, 3 bundles and a 20in closure, I didn't even use all 3 bundles my hair is thick, it came natural but I dyed it jet black, I love black, my hair came in 3 days, it came right in time for me to go out lol, the vendor kept in touch with me the whole time, this will be my vendor from now on, this the place to be, thank y'all and love ya,
This hair is super soft. No smell. Doesn't tangle. true to length. I love the lace closure color, blends very well and looks natural. I've tried lots of hair from Ali Express, this hair is one of the best! I love it. I made a custom wig unit (@doll_headzz). I will update with pics at a later date. Thanks again!
I didn't expect this hair to be so amazing coming from giulia hair and this is my second time buying. This hsir is nice and full and bleaches and dyes well
I really enjoy wearing this hair, it's very good quality! I was a little suspicious of the high luster, possibly being synthetic, when I received the hair but all it takes is a nice cowash to rid the extra extra shine
Hair is beautiful as always. No shedding and tangling, and gets bone straight . Seller was helpful through the whole process. There was an issue with shipping but she fixed it
This is some quality hair! At first I was weary because there were no reviews and the photos of the bundles looked thin. Well they're not. Upon opening the box, yes they do look thin, but there is a soft net cap protecting the hair. Once I took the net off of the bundles the hair fluffed out and was very bouncy.The water was clean after I co-washed the hair so no dye! The hair is a natural dark brown color but I will dye the hair black. The wefts are thin but are constructed well and the proof is in the shedding. There isn't any excessive shedding which is good.The hair is true to length. I purchased the 18, 20, 22, 24 in. and it is long!! I purchased this hair for my sister since I already have body wave bundles of my own and will definitely upgrade myself to linger lengths next time.The company was so nice to add a cute gift of eyelashes in the box and a thank you letter right on top. I would purchase from this vendor again and plan to check out the other textures they have in their store.

Your cart is currently empty.