HAIR BUNDLES WITH CLOSURE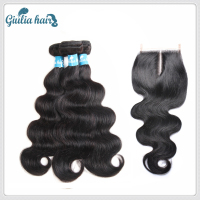 Body Wave Virgin Hair Indian Hair Bundles With 4*4 Lace Closure
$56.00
I'm so happy I ordered this hair!!! It is so soft and thick!! I'm in love with the hair! I dyed the hair, and straightened and the texture of this hair did not change.! I made a beautiful wig out of it! I will definitely be ordering from them again.
So i dont do reviews unless it's absolutely necessary. This is one of those times. THIS HAIR IS AMAZING! It's nice and thick, does not shed, does not have that horrible smell, does not tangle, and is worth it for the price! I've had it in for about 3 weeks now and I've actually tried being hard on it to see how it would react. Some nights i didn't roll or or wrap it, i just Pulled it back in a ponytail and went to bed and it did not tangle. It holds amazing curls when you use flexi rods. I'm definitely purchasing again! Also the vendor is amazing! They have reached out to check on their product and they send goodies! I'm not paid to write this or anything I'm a consumer first and i can tell you that you won't regret purchasing this hair!
I barely write reviews but this is a honest review this hair is GOOD!!!! I ordered of giulia hair before and the previous hair I got was horrible it wasn't this vendor a different one but this hair is soooo soft it straighten so good and curls so good I purchased 4 bundles 24,22,22,20 I didn't need all bundles and also the shipping was just fast!!!! For the price this hair is everything!!! This will definitely not be the last time I purchase this hair

Your cart is currently empty.