HAIR BUNDLES WITH CLOSURE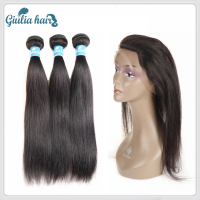 Indian Straight Hair With 360 Lace Frontal Hair 3 Bundles 100% Virgin Hair
$87.00
This is my first time ordering from Ali Annabelle and it sure will not be the last , I am absolutely in love with this hair. So soft and silky, I have yet to install once done I will have more pictures. It only took 2-3 business days for my hair to arrive as well.
it just installed and i love my hair, it's soft and silky so it didn't didn't have a smell taking around to get any pictures i'm so far no shedding in aliexpress order more often skirt definitely love my new favorite vendor. beautiful is so amazing updated doing so sweet me she kept the delivery process
Omg just literally received this hair like 10 mins ago and I waste no opening and taking pictures to help anyone else this hair is so soft feels so silky and I don't really buy Brazilian hair but I'm so happy I check these guys out to continue making my wigs I fell in love w my frontal and hair
I like the texture of the hair. It's pretty when straightened, and can revert back wavy when wet. However, you must tie it up, so it will not mat up. That and minimal shedding. But, overall it's pretty good hair.
This was my first time ordering fro here and i will be back again !it was everthing that i expected it to be .it is thick and looks good with my natural hair.No complains.Thank you giulia hair.
I really love love this hair so soft and beautiful I appreciate this company so much customer service is so nice. thank you thank you will be ordering again
I installed it for a few days already. So far I love the way the hair feel and the seller was really nice and kept in contact. No shedding no tangle...will recommend to my friends :)

Your cart is currently empty.