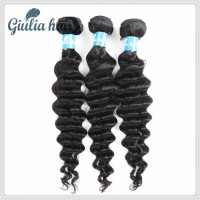 Loose Deep Wave Brazilian virgin Hair 3 Bundles 100% Human Hair
$40.00
Hair came quick. Seller communicated every step of the way. The hair is soft curls are gorgeous! Bundles looked small but were actually very full. I still have some left over. Would definitely buy from them again.
Before talking about the hair I wanted to talk to you about how nice the seller was, he kept me informed of each step before I received my hair. I asked him to have them before the New Year for my New Year's event and I received them. For the hair, they are very soft I love them. They are also very good quality. Do not hesitate to do business with him. Excellent seller. Thank you again.
The hair arrived the time that it said it was, it didn't have a smell to it and it does keep its curl pattern after wetting/shampooing it. I ordered 16 18 20 22, wish I would've gotten a closer though. I didn't wash before install. To keep hair looking natural i use Cantu leave in conditioner and water mixed. It shed a little but that's normal.
it was amazing from the beginning, i eventually turned it into a wig and with the simple use of water
This hair has been installed since 1/26/18 and it is amazing!!! All you have to do is spray daily with water, conditioner, oil mix and follow through with Camille rose girl maker or sundae and your curls will be popping everyday! No tangling but you will get shedding when finger combing the product through the hair
Sooo, I was excited to get this hair. Came fast. BUT, when I received it I was a little skeptical about it cause the length didn't look like true length. Ordered 20,18,16 closure. But after I co-washed the bundles, I was very very pleased. That is the key when getting new hair. Always coWash before you install !! I'm very happy with my purchase !review image
by far one of the best bundles and closure I have ordered. I have had the hair in for a month now. I love this hair. It does not tangle and the curls are still pretty after the hair dries from being wet.
The hair arrived very quickly. I was very happy with the communication from the seller. When the hair arrived it was soft and beautiful.
I loved this hair. It was really soft and kept it's curl pattern after I bleached the ends. After a month of wear it still looks and feels great. The seller's communication was excellent. I had a mishap during the shipping process, but the seller made sure I got my package on time. Would definitely repurchase and highly likely to recommend to a friend.

Your cart is currently empty.